We share our programs with the Calais Historical  Society
Our meetings are on the third Mondays, February to November
The E. Montpelier and Calais Historical Societies will be holding their first meeting of 2018 on Monday, February 19 at 6:00 p.m. at the E. Calais Recreation Center in East Calais Village off Route 14.  We will have a potluck supper for which you should bring your own place setting and a dish to share. Coffee provided.  Our speaker at 6:45  will be Ben Ward of Calais, a Montpelier High School senior, who will be talking about   "Getting Young People Involved in Local History".  Ben has participated in the statewide Vermont History Day and pursues his own interests in history in several ways.  Business meetings will follow the program.  Annual dues may be paid as well.   This meeting is free and open to the public.  Contact Sandal Cate   sandal@sover.net    223-6466  for more details.
It's 1897 and Town Meeting is Coming Up!
Better pull out the Town Report and get ready. Find out how much was spent "snowing bridges," "use of water tubs," "shingling the Coburn Bridge," and much more. Click on the cover below to see the whole thing. By the way, if you are clueless about "snowing bridges," you'd better get to our historical society meeting posted above and find out before Town Meeting Day.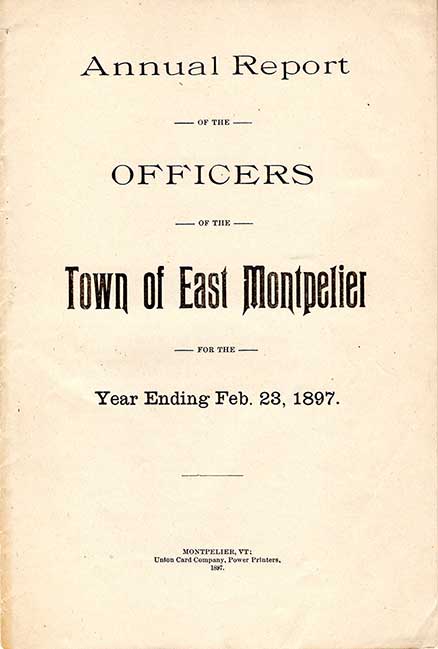 If you think it's actually 2018…
Find us at the 2018 East Montpelier Town Meeting!  The EMHS will have an exhibit table in the hallway of the Elementary School on Tuesday, March 6 for you to visit.  We will have membership materials, our 2018 program schedule and copies of our town history, Across the Onion in paperback and hardbound for you to purchase.  We will also have copies for sale of our many history pamphlets that share intriguing stories of our town's past, most of which cost $5 or less.  We hope to see you there!